7 Days trip in Egypt
Budget: 0 USD - 600 USD
Food exploration
Nightlife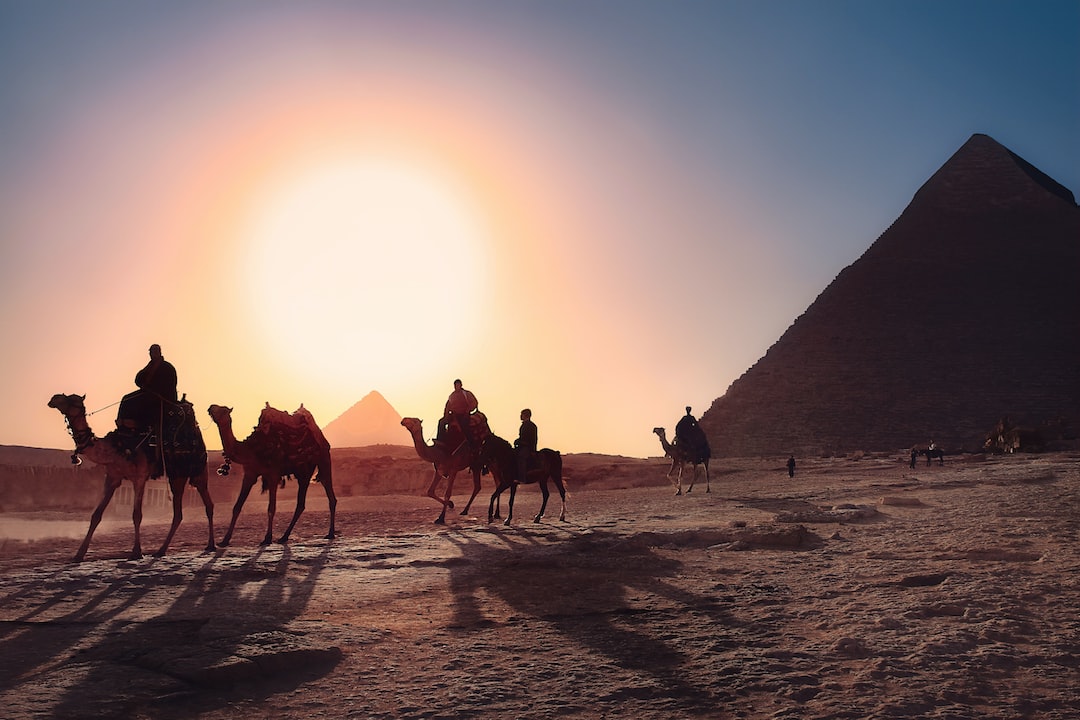 Egypt is a North African and Middle Eastern country known for its ancient civilization, historic monuments, and cultural heritage.
---
General Infomation
Exchange Rate of 1 USD to EGP
EGP 30.93
Day 1
---
Visit the step pyramid of Djoser, considered to be the oldest pyramid in Egypt.

Explore the bustling bazaar that is full of spice shops, jewelry stores and souvenirs of all types.

A staple in Cairo's nightlife scene and offers live music and DJs on rotation.
---
Day 2
---
Visit the world-famous Great Pyramids of Giza, one of the Seven Wonders of the Ancient World.

Enjoy traditional Egyptian food at Felfela restaurant, located in the heart of Giza.

Catch a movie at the historical Sphinx Cinema, which was built in the 1940s and still maintains its charm.
---
Day 3
---
Explore the largest collection of Egyptian artifacts in the world - the Egyptian Museum in Cairo.

Unwind in Al-Azhar Park, one of the green lungs of Cairo and offers a beautiful view of the city.

Sip on cocktails and enjoy panoramic views of Cairo at Cairo Tower, a rotating restaurant and observation deck.
---
Day 4
---
Visit Luxor Temple, a vast ancient Egyptian temple complex located on the east bank of the Nile River.

Explore Habu Temple, the mortuary temple of Ramses III, which features stunning hieroglyphic inscriptions and colorful reliefs.

Experience Luxor's history come to life through the spectacular sound and light show that takes place at the Karnak Temple.
---
Day 5
---
Visit the Valley of the Kings, which houses many of the tombs of pharaohs from the New Kingdom.

Indulge in some of the best traditional Egyptian food at Habiba's Kitchen, known for its luxurious dishes.

Unwind at the Oasis Bar and Restaurant, which offers delicious food, traditional shisha and live music.
---
Day 6
---
Embark on a day trip to Tiran Island, a beautiful island in the Red Sea with crystal clear waters and abundant marine life.

Enjoy live music and American-style dining at the Hard Rock Cafe, one of the hottest spots in Sharm El Sheikh's nightlife scene.
---
Day 7
---
Explore the stunning marine life and coral reefs at Ras Mohamed National Park, a protected area at the southern end of the Sinai Peninsula.

Treat yourself to some delicious Italian cuisine at Limoncello restaurant, which offers authentic dishes and a cozy atmosphere.

Experience the vibrant nightlife of Sharm El Sheikh at Caligula Hotspot, which hosts some of the best DJs in the city.
---
Estimated Cost (USD)
Accommodation
Hostel
10-15 USD per night
Hotel
40-60 USD per night
Airbnb
20-30 USD per night
Transportation
Mini Bus
1-3 USD per trip
Food
Street food
1-5 USD per meal
Budget restaurant
5-15 USD per meal
Local cafe
2-5 USD per coffee
Activities
Entrance fee to Pyramids
10-25 USD per person
Nile River Dinner Cruise
30-50 USD per person
Desert Safari
50-100 USD per person