7 Days trip in Egypt
Budget: 0 USD - 3000 USD
Food exploration
City sightseeing
Cultural experiences
Historical landmarks
Outdoor adventures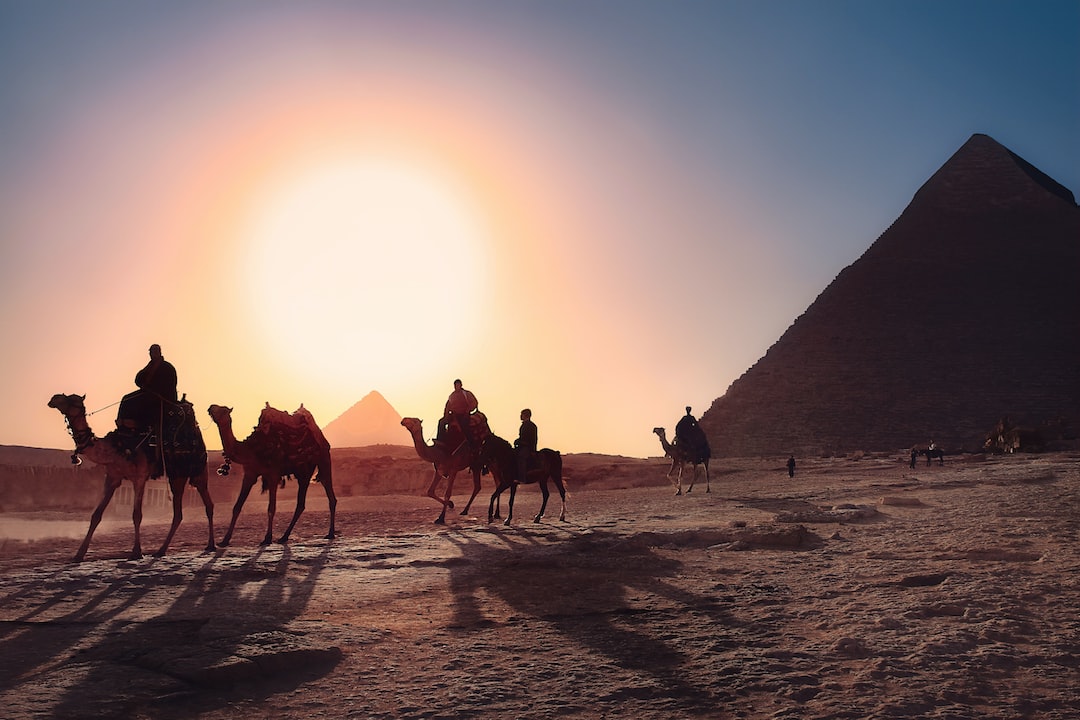 Egypt is a North African and Middle Eastern country known for its ancient civilization, historic monuments, and cultural heritage.
---
General Infomation
Exchange Rate of 1 USD to EGP
EGP 30.93
Day 1
---
Explore one of the Seven Wonders of the World and take a camel ride around the pyramids.

Experience the bustling market and indulge in traditional Egyptian street food while exploring the historic district of Old Cairo.

Enjoy a relaxed evening on a dinner cruise while taking in the beauty of the Nile River and the Cairo skyline.
---
Day 2
---
Explore the extensive collection of ancient Egyptian artifacts at the Egyptian Museum, including the iconic golden mask of King Tutankhamun.

Visit the medieval fortress of Salah El Din and enjoy breathtaking views of the city from the top of the citadel.

Relax in the lush green space of Al Azhar Park, offering a peaceful escape from the busy city and stunning views of Cairo's skyline.
---
Day 3
---
Explore one of the largest and most impressive libraries in the world, boasting an extensive collection of ancient and contemporary literature.

Visit the iconic 15th century fort built on the site of the famous Lighthouse of Alexandria, offering panoramic views of the Mediterranean Sea.

Take a relaxing walk along the lively waterfront promenade of Corniche, enjoying stunning views of the Mediterranean Sea and the city's architecture.
---
Day 4
---
Experience the stunning coral reefs and diverse marine life at the protected Ras Mohammed National Park, known as one of the best snorkeling and diving spots in the world.

Explore the lively entertainment district of Naama Bay, offering a variety of food and shopping options, as well as stunning sunset views over the Red Sea.
---
Day 5
---
Hike to the summit of Mount Sinai to witness the stunning sunrise over the desert landscape and visit the historic St. Catherine's Monastery at the base of the mountain.

Experience the traditional Bedouin lifestyle and enjoy an evening of stargazing, camel rides, and delicious Bedouin cuisine at a local Bedouin camp.
---
Day 6
---
Visit the burial sites of many of Egypt's most powerful pharaohs at the Valley of the Kings, known for its stunning tombs, intricate carvings, and colorful paintings.

Experience the largest ancient religious site in the world at Karnak Temple, boasting massive columns, grand halls, and intricate carvings that will leave you in awe.

Explore the ancient Luxor Temple by night, marveling at the illuminated columns, statues, and hieroglyphics that tell the story of Ancient Egypt.
---
Day 7
---
Experience the world-famous coral reefs and colorful fish of the Red Sea, either through snorkeling or diving, at one of the many water sports centers in Hurghada.

Experience the largest water park in Egypt, featuring countless thrilling water slides, lazy rivers, and pools, perfect for a fun-filled afternoon with friends or family.

Stroll through the lively Marina Hurghada, filled with restaurants, cafes, shops, and bars, offering stunning sunset views over the Red Sea.
---
Estimated Cost (USD)
Transportation
Tuk-tuk
1-3 (for short trips)
Activities
Pyramids of Giza entrance fee
15
Visit Luxor (by air)
100-200