7 Days trip in Egypt
Budget: 0 USD - 3000 USD
Nightlife
Food exploration
Beach activities
Shopping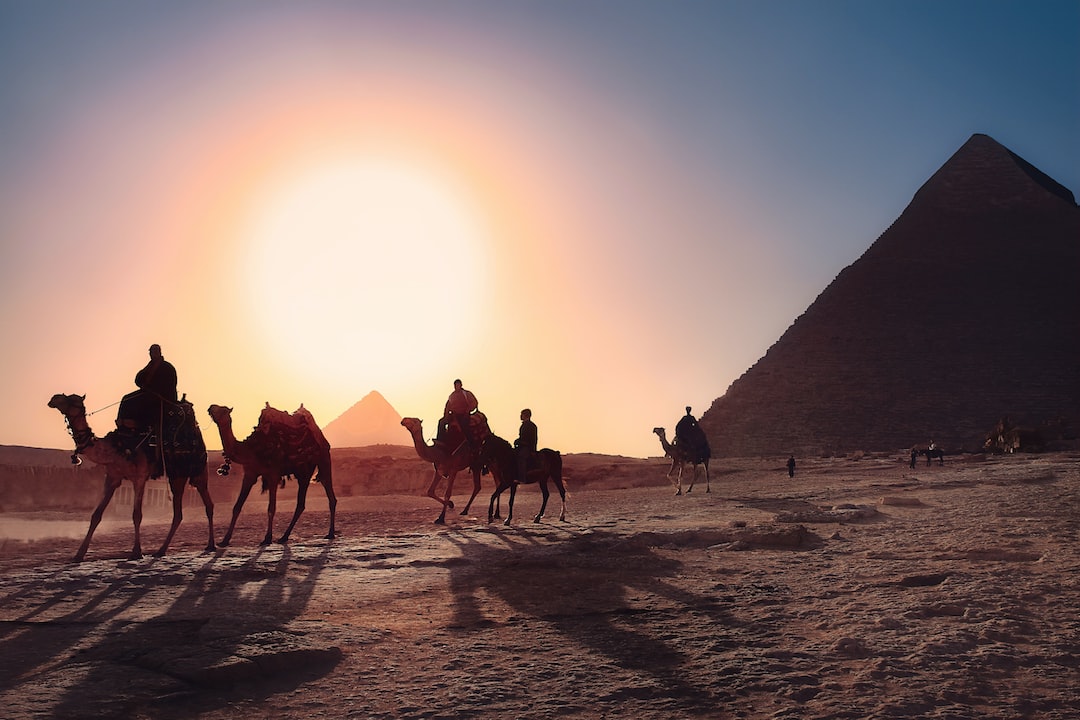 Egypt is a North African and Middle Eastern country known for its ancient civilization, historic monuments, and cultural heritage.
---
General Infomation
Exchange Rate of 1 USD to EGP
EGP 30.93
Day 1
---
Explore the history and culture of Egypt at one of the world's greatest museums.

Wander through the winding alleys of this ancient market and discover local cuisine and souvenirs.

Experience the magic of the pyramids at night with a multimedia show that tells the story of this ancient wonder.
---
Day 2
---
Explore the Islamic heritage of Egypt and enjoy panoramic views of the city from this medieval fortress.

Relax in lush gardens surrounded by historic sites, fountains, and scenic views of the city skyline.

Savor local cuisine and enjoy live music and dance performances on a luxurious boat ride down the Nile River.
---
Day 3
---
Venture out to this lesser-known ancient site and explore the Step Pyramid, tomb complexes, and hieroglyphs.

Soak up the sun and surf the waves at this popular beach destination for windsurfing and kiteboarding enthusiasts.

Experience the vibrant music scene in Cairo and listen to live jazz and blues music at one of the city's top clubs.
---
Day 4
---
Discover the history of Coptic Christianity with a visit to this ancient church suspended over the streets of Cairo.

Taste authentic Egyptian cuisine at this popular restaurant chain known for its falafel and shawarma sandwiches.

Shop 'til you drop at this massive mall featuring international fashion brands, electronics, and entertainment options.
---
Day 5
---
Witness one of Egypt's modern engineering feats with a visit to the colossal dam that controls the Nile River's flow.

Discover the beauty of this ancient temple complex dedicated to the goddess Isis, with stunning views of the Nile.

Experience the colorful and friendly Nubian culture with a night of music, dancing, and traditional food in a village along the Nile.
---
Day 6
---
Embark on a journey to the heart of ancient Egypt with a visit to this stunning temple complex built by Pharaoh Ramses II.

Explore the rich history and art of the Nubian people in this modern museum showcasing archaeological finds and traditional crafts.
---
Day 7
---
Step back in time and discover the grandeur of the ancient pharaohs with a visit to this vast temple complex in Luxor.

Explore the tombs and burial chambers of the pharaohs and their queens, adorned with vivid artworks and hieroglyphs.

Experience an epic multimedia spectacle that brings the history of the Luxor Temple to life, with stunning light effects and soundscapes.
---
Estimated Cost (USD)
Accommodation
Hostel
10-25 USD per night
Hotel
50-100 USD per night
Airbnb
30-80 USD per night
Transportation
Metro
0.20-0.35 USD per ticket
Taxi
2-10 USD per ride depending on distance
Uber/Careem
2-15 USD per ride depending on distance
Food
Budget
1-3 USD per meal from street vendors
Local Cuisine
5-15 USD per meal at local restaurants
Fine Dining
15-50 USD per meal at upscale restaurants
Activities
The Pyramids of Giza
10 USD for entrance fee
Egyptian Museum
10 USD for entrance fee
Nile River Cruise
20-50 USD depending on duration and package