7 Days trip in Egypt
Budget: 0 USD - 1000 USD
City sightseeing
Cultural experiences
Festivals/events
Food exploration
Historical landmarks
Outdoor adventures
Shopping
Wildlife exploration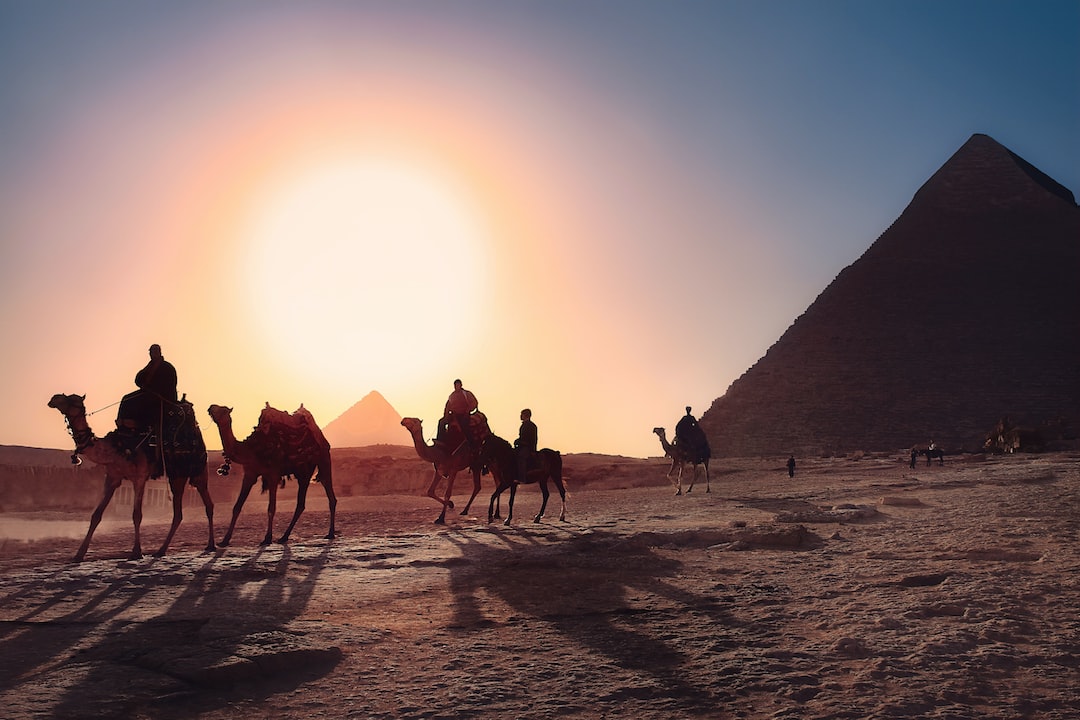 Egypt is a North African and Middle Eastern country known for its ancient civilization, historic monuments, and cultural heritage.
---
General Infomation
Exchange Rate of 1 USD to EGP
EGP 30.93
Day 1
---
Explore one of the Seven Wonders of the World and ride a camel in the desert surrounding the Pyramids.

Wander through the bustling streets of a traditional souk, and haggle for souvenirs and handmade crafts.

Relax in the tranquil gardens of this beautiful park, and enjoy a traditional Egyptian meal at a nearby restaurant.
---
Day 2
---
Discover ancient artifacts and learn about the rich history of Egypt at the world-famous Egyptian Museum.

Explore the Christian heritage of Egypt, and visit churches, museums, and ancient ruins in this historic area of Cairo.

Enjoy a romantic evening cruise on the Nile River, with delicious food, live entertainment, and breathtaking views of the city lights.
---
Day 3
---
Explore the lesser-known but no less fascinating ancient pyramids and tombs at this UNESCO World Heritage site.

Discover the Islamic heritage of Cairo, and visit mosques, markets, and museums in this historic area.

Immerse yourself in the vibrant atmosphere of this iconic cafe, and sample traditional Arabic coffee and snacks.
---
Day 4
---
Climb to the top of this medieval fortress, and enjoy panoramic views of Cairo and the surrounding area.

Sip mint tea and people-watch at one of the oldest cafes in Cairo, and soak up the local culture.

Experience the Pyramids in a whole new light, with a dazzling sound and light show that brings ancient history to life.
---
Day 5
---
Escape the city and explore the natural wonders of Wadi El Rayan, with stunning waterfalls, lakes, and wildlife.

Have some fun at this popular amusement park, with rollercoasters, water rides, and games for all ages.

Satisfy your cravings with some delicious Egyptian street food, and mingle with the locals at this casual eatery.
---
Day 6
---
Marvel at the impressive architecture and artistry of this medieval mosque and school, a masterpiece of Islamic art and science.

Enter one of the oldest and most respected mosques in the Islamic world, and learn about its fascinating history and teachings.

Shop till you drop at one of the largest and most modern malls in Egypt, with hundreds of stores, restaurants, and entertainment options.
---
Day 7
---
Get a bird's-eye view of Cairo from the top of this iconic tower, and enjoy a panoramic feast for the eyes and the stomach at the revolving restaurant.

Sail down the mighty Nile on a traditional felucca boat, and take in the stunning scenery and landmarks of Cairo from a different angle.

Stroll the lively and colorful alleyways of this historic street, lined with beautiful buildings, shops, and cafes, and immerse yourself in the bustling local life.
---
Estimated Cost (USD)
Accommodation
Hostel
7-20 USD per night
Hotel
35-70 USD per night
Airbnb
20-50 USD per night
Transportation
Uber/Grab
3-10 USD per trip
Food
Street food
1-5 USD per meal
Local restaurant
5-15 USD per meal
Fancy restaurant
20-50 USD per meal
Activities
Entrance fee to the Pyramids of Giza
10 USD
Nile River Cruise
20-50 USD per trip
Camel ride in the desert
15-30 USD per ride