7 Days trip in Thailand
Budget: 3000 USD - 3000 USD
Food exploration
City sightseeing
Nightlife
Outdoor adventures
Shopping
Spa and wellness retreats
Beach activities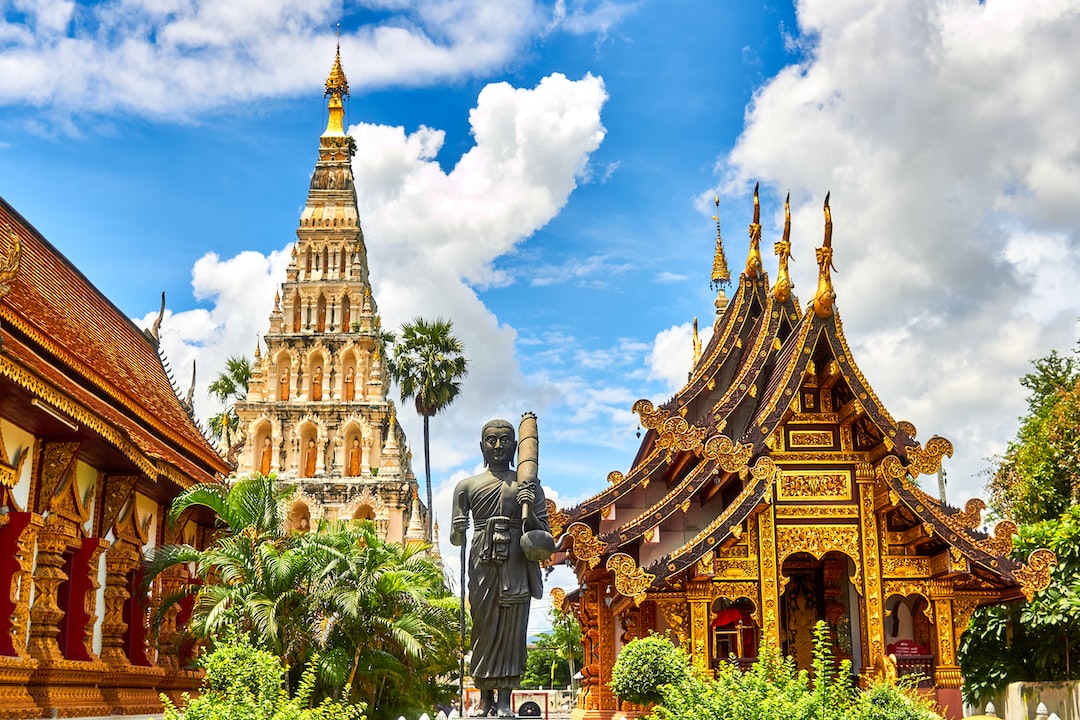 Thailand is a beautiful country with a rich history and vibrant culture. It offers a variety of landscapes, delicious cuisine, and friendly people.
---
General Infomation
Exchange Rate of 1 USD to THB
THB 35.62
Best Way to Get Around
tuk-tuk
songthaew
motorcycle taxi
BTS Skytrain
MRT
Day 1
---
Visit the iconic Big Buddha Temple with its stunning gold-colored statue and panoramic views over Koh Samui.

Relax on one of the most popular and beautiful beaches in the area, with crystal clear waters, soft white sand and plenty of activities to enjoy.

Taste authentic Thai food in one of the many street restaurants, enjoy a cocktail or two in one of the trendy bars and soak up the atmosphere in this charming and vibrant village.
---
Day 2
---
Trek through lush, tropical jungle to reach this beautiful waterfall where you can swim in the refreshing pools and take in the stunning scenery.

Discover another beautiful beach, with clear, calm waters perfect for swimming, a long stretch of golden sand and plenty of restaurants and bars to relax in.

Shop until you drop in this huge mall, with international brands as well as local handicrafts, street food stalls and entertainment options.
---
Day 3
---
Indulge in a luxurious spa day surrounded by stunning jungle scenery, with massages, body scrubs, hot springs and pools to rejuvenate the mind and body.

Experience a beautiful and peaceful Buddhist temple, with intricate statues and a serene atmosphere to discover in this off-the-beaten-path location.

Discover the vibrant and colorful night market with street food stalls, local crafts, souvenirs and entertainment options for a fun-filled and delicious evening.
---
Day 4
---
Spend the day exploring the pristine islands, cliffs, lagoons and coral reefs of the Angthong Marine National Park, with kayaking, snorkeling and swimming opportunities.

Experience a trendy and stylish night out with international cuisine, cocktails, live music and entertainment options in this upscale dining and shopping plaza.
---
Day 5
---
Discover an enchanting hidden garden full of statues, sculptures, waterfalls and breathtaking views, created by a local farmer as a peaceful sanctuary.

Get a taste of local life and flavors in this bustling market, with fresh seafood, fruits, vegetable and street food stalls, as well as handicrafts and souvenirs.

Experience the lively and fun atmosphere of this famous beach club, with delicious meals and cocktails, live music, fire shows, beach games and dancing.
---
Day 6
---
Visit one of Koh Samui's most important landmarks, the iconic Big Buddha Temple, with its stunning golden statue, serene atmosphere and amazing views.

Discover a quieter and more secluded beach, with turquoise waters, white sand and perfect snorkeling conditions to explore the colorful underwater world.

Experience a bustling and lively night market, with street food stalls, bars, live music, souvenirs and clothing to suit every taste and budget.
---
Day 7
---
Witness a unique cultural phenomenon - the mummified body of a famous Thai monk, on display at this mysterious and intriguing Buddhist temple.

Spend an unforgettable and responsible day with rescued elephants, feeding, bathing and learning about these gentle giants and the importance of their conservation.

Enjoy a last night out on one of the most peaceful and picturesque beaches on Koh Samui, with stunning sunsets, fresh seafood and cocktails to savor.
---
Estimated Cost (USD)
Transportation
Grab/Taxi
5-10 for short rides, 20-30 for longer rides
Motorbike rental
5-10 per day
Songthaew (shared truck taxi)
around 1 per ride
Food
Local restaurants
5-10 per meal
Fancy restaurants
20-50 per meal
Activities
Temple visits
free to 5 USD per temple
Island tours
20-30 for half day tour, 50-100 for full day tour
Water sports
30-50 for snorkeling, kayaking, etc.